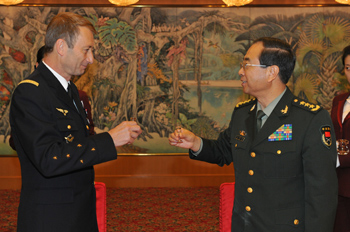 Chairman of the EU Military Committee General Patrick de Rousiers visits China to hold 1st EU-China Dialogue on Defence and Security in Beijing, October 2014
Strategic Partnership
The EU-China Strategic Partnership, which is based on the 1985 EU China trade and cooperation agreement, has grown to include foreign affairs, security matters and international challenges such as climate change and global economy governance.
The EU and China are world players. The EU is China's biggest trading partner, while China is the EU's largest source of imports and 2nd largest two way trading partner. The trade and investment relationship is a major source of wealth, jobs, development and innovation for both sides.
Summits and dialogue
The issues that the EU and China discuss during their regular meetings are organised around 3 'pillars': political dialogue, economic and sectoral dialogue and people to people dialogue.
Human rights are discussed as part of the regular political dialogues and – since 1995 – during specific human rights dialogues.
There are annual summits, regular high level dialogues and more than 50 sectoral dialogues

[41 KB]

on topics including industrial policy, education, customs, social affairs, nuclear energy and consumer protection.