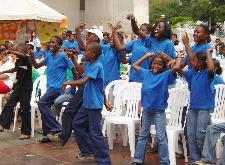 Support to street children in Cali (Colombia)
As a global actor, the EU promotes integration as a means to support peace and prosperity and to overcome conflicts around the world.
Peace building and conflict prevention are at the heart of EEAS action. The EU aims to "promote peace, its values and the well-being of its peoples" (TEU Art 3(1) as amended by the Lisbon Treaty) and to "preserve peace, prevent conflicts and strengthen international security" (Article 21(2)).
How does the EU promote peace in the world?
Peace building
The EU is the world's largest trading partner and aid donor, a key contributor to international organisations, a significant provider of security in its own right and in cooperation with key strategic partners.
The EU is also able to employ its wide array of external assistance instruments in support of conflict prevention and peace building. The EU is one of the biggest donors in this area.
Conflict prevention
The EU external action for the prevention of conflicts

is based on:
The EU Early Warning System

[478 KB] is a risk management tool for upstream conflict prevention. It addresses conflict risks before they lead to violence. It is designed to close the gap between early warning and early action by engaging EU staff across headquarters and in-country in a joint assessment process that incorporates specific recommendations and follow-up for action. The EU also promotes the systematic use of conflict analysis, notably in fragile and conflict-prone countries.
Mediation and Dialogue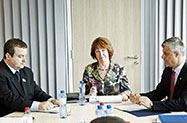 EU facilitated Belgrade-Pristina Dialogue
Mediation is part of the EU's on-the-ground preventive diplomacy and is a component of the EU's conflict prevention and peace-building toolbox for conflict countries.
Based on the Concept on Strengthening EU Mediation and Dialogue Capacities adopted in November 2009

[156 KB] , the EU has developed its own mediation support capacity.
Actors such as EU Special Representatives and frequently engaged in mediation efforts, alongside EU Delegations and Common Security and Defence Policy (CSDP) missions. These range from high political level mediation meetings to political facilitation and confidence building. The EU is also active in dialogue processes involving civil society organisations at grassroots levels, in particular through the Instrument for Stability (IfS).
The EEAS's "Conflict prevention, Peace building and Mediation Instruments Division" supports geographic services, EU Delegations, EU Special Representatives and EEAS senior management charged with taking decisions in the pursuit of peace, peace mediation and conflict prevention.
The aim of the Mediation Support Team

[491 KB]


is to promote the use of mediation and dialogue as a tool of first response to emerging and ongoing crisis.
Factsheets on Mediation and Dialogue:
Study on EU lessons learnt in mediation and dialogue
Evaluatory review of the EEAS Mediation Support Pilot Project