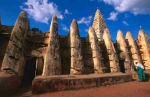 Burkina Faso
Burkina Faso is a landlocked Sahelian country that is among the poorest in the world. It has few natural resources. The increasingly impoverished environment suffers from the damaging effects of the Sahelian climate. There is often insufficient or poorly distributed rainfall.
The economy is based on cotton production, an agricultural segment heavily dependent on rainfall. Around 80% of the working population are employed in agriculture, which accounts for 37% of the gross domestic product (GDP). The services sector, which is largely informal, is constantly growing. Economic production costs are high and the national economy is heavily dependent on the export of cotton and gold. The fall of the dollar and global cotton prices together with an increase in the cost of petroleum products has had a negative impact on the overall balance of Burkina Faso's economy over the past three years.
Key issues in EU-Burkina Faso relations
The government's Strategic Framework for the Fight against Poverty is based on four pillars: i) to speed up growth and ensure it is equitable, ii) to ensure access for the poor to basic social services and social protection, iii) to increase employment and income-producing opportunities for the poor in an equitable way iv) to promote good governance. This new strategy has been endorsed by all the assistance providers, including the European Union Member States, whose combined contribution makes up 50% of total aid.
In terms of governance, the country has been attempting to strengthen democracy and the rule of law since the early 1990s, but progress remains to be done, in particular with respect to the effectiveness of the judicial system and the fight against corruption and freedom of expression. Decentralisation is a major challenge for the future. Burkina Faso has an adequate legal and regulatory framework in terms of human rights and the rule of law, but its application needs to be improved. Action is particularly needed to step up the fight against corruption. Within the framework of the programming of the 10 th European Development Fund (EDF), the EU's intervention policy aims to reduce poverty by ensuring consistency and complementarity based on the following areas of intervention: i) improvement of basic infrastructure and interconnectivity (transport, water and purification, energy); ii) support for political and local governance (justice, decentralisation); iii) support for the macroeconomic framework and the reduction of poverty by means of direct budgetary support – around 60% of the resources.
In addition to the above focal sectors, regional integration and cooperation (Economic Partnership Agreement, environmental protection) and institutional support will be financed.