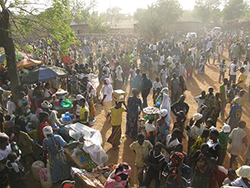 Market in Burkina Faso
The European Union and Burkina Faso have been partners for a long time and maintain relations that go beyond development cooperation.
The EU has been present in Burkina Faso since 1959 and is the largest donor of public aid for the development of the country, all the more so through the bilateral partnerships with EU Member States present in Burkina Faso.
The cooperation between the EU and Burkina Faso represents over sixty years of joint venture. Following the implementation of the Lisbon Treaty since December 2009, the dynamics of the cooperation between the EU and Burkina Faso have evolved a more integrated and much more political dimension. The EU henceforth has a place in the country with regard to matters of regional security.
Our actions in Burkina Faso
The EU supports Burkina Faso in its fight to combat poverty, principally through the European Development Fund (EDF), which is the EU's main instrument for financing aid to African, Caribbean and Pacific (ACP) countries.
Through the 11th EDF which covers the 2014-2020 period, the EU has made available to Burkina Faso a total amount of EUR 623 million, with the aim of strengthening governance, health, food nutrition and security, sustainable agriculture and water, in particular.
The development aspect is supplemented by ongoing political dialogue between the Europeans (the EU and Member States) and the Burkinabe authorities. This enables regular evaluation of the progress made on matters concerning combating poverty; contributing to job-creating growth; helping to strengthen democracy, human rights and good governance; working together to resolve regional crises, as well as contributing to the security and stability of the sub-region.