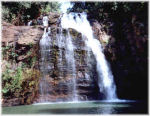 Benin
Since 1990 Benin has been one of Africa's most stable democracies. Public freedoms are generally respected, especially freedom of expression and freedom of the press. Although in general Benin has achieved significant progress in terms of governance, corruption remains a very serious problem. Despite its stability, Benin remains one of the world's poorest countries (ranked 161/182 in the 2009 Human Development Index). The state of Beninese society depends on the sector one looks at. Flagship policies are in place to aid the poorest populations (free education and healthcare, microcredits). But at the same time there is acute labour unrest, and population growth poses a serious challenge to efforts to translate growth into development. The country remains very vulnerable, with limited infrastructure and an economy that is highly dependent on cotton (earning 60% of export revenue and employing 30% of the population). The economy worsened in the second half of 2009, as a result of the worldwide crisis and domestic macroeconomic policies. Benin's government has begun taking steps to promote recovery, following negotiations on a new programme with the IMF. The country's stability is rendered precarious by strong resistance to change and to the introduction of more open government. It is in this area that there is a great opportunity to develop political dialogue between the EU and Benin. The next important elections are the presidential and parliamentary elections scheduled for 2011.
Key issues in EU-Benin relations
In light of this situation, the European Commission and the Beninese Government have agreed to base the cooperation strategy of the 10th EDF (European Development Fund 2008-2013) on four components: budgetary support linked to a reduction in poverty governance and local development infrastructure and regional interconnectivity wide-ranging measures based on competitiveness, social cohesion, the environment and support for civil society.
Within the still inadequate standard of governance and inadequate basic infrastructure, especially in the transport sector, this strategy identifies many obstacles along the road to sustainable growth and regional integration.
The €340.2 M from the 10th EDF have been allocated as follows:
Outside the focal sectors, € 41 M has been allocated to four areas: competitiveness and social cohesion (€ 15 M), support for non-state actors (€ 12 M), the environment (€ 7 M) and the Technical Cooperation Facility, including support for the NO (National Ordonnateur – the authority appointed by the government) (€ 7 M). A reserve package of € 6.2 M has been set aside to deal with unforeseen emergencies.