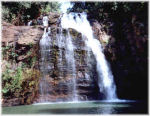 Benin
Political, trade and cooperation relations between the EU and Benin are built on the ACP-EU Partnership Agreement (The Cotonou Agreement) which was signed in 2000 and revised in 2005 and 2010. The EU and Benin have political dialogues that cover a wide range of issues – regional, political, trade, development, and governance.
The priorities in the EU-Benin bilateral cooperation set out in the Country Strategy Paper 2008-2013

are:
Governance and local development
Infrastructure and regional integration
Poverty reduction
The overall EU assistance to Benin between 2008 and 2013 is expected to be around 395 M€.