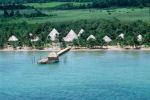 Belize
Belize is the only English speaking country in Central America and is located on the Caribbean coast. It has a land area of 22,806 km² and 297.400 inhabitants (July 2007 est.). The annual growth of population is 2.6%. Migrants from Belize to North America are compensated by an influx of labourers from neighbouring Middle American countries. Literacy rate is 76.7% and average life expectancy is 68.3 years. GDP is estimated at € 4818.
The structure of the Belize economy has changed over the last twenty years, with a decline in the primary and secondary sectors. In Belize the bulk of manufacturing arises from processing of primary products, particularly sugar, shrimps and citrus fruit. In 2005 agricultural production accounted for 14.7% of GDP, down from 17% in 1998. Allowing for agricultural processing, the sector employs around 25% of the labour force.
The services sector, including tourism, has emerged in this current decade as the leading sector, accounting for 61.3% of GDP and 58.7% of the employed labour force in 2005. Apart from retail and government, tourism is a major employer (13% of total workforce).
Key issues in EU-Belize relations
Belize concluded the negotiations for an Economic Partnership Agreement (EPA) at the end of 2007. The 10th EDF (European Development Fund 2008-2013) country strategy (€ 11.8 M) focuses on Rural Development. In addition, Belize will receive over the period 2006-2010, a total of € 48.2 M under the Accompanying Measures for ACP Sugar Protocol Countries in order to improve the efficiency of cane production and processing and economic diversification.
In addition, Belize received, over the period from 1999 to 2007, € 25.7 M under the Special Framework of Assistance to ACP Banana Producing Countries, to modernise its industry and to cater for social needs in the banana area.