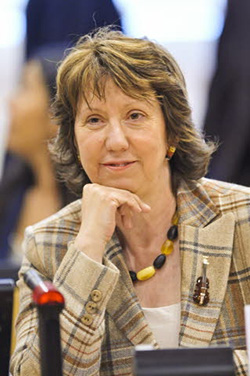 Hög representant för utrikes frågor och säkerhetspolitik och vice ordförande för Europeiska kommissionen
I november 2009 utsågs Catherine Ashton till EU:s första utrikesrepresentant och till vice ordförande för EU-kommissionen.
Den nya tjänsten inrättades genom Lissabonfördraget och utrikesrepresentantens uppgift är att samordna EU:s gemensamma utrikes- och säkerhetspolitik, som tidigare varit åtskilda områden.
Till sin hjälp har Catherine Ashton Europeiska utrikestjänsten (EEAS), som bildades den 1 januari 2011 genom att man slog samman kommissionens och rådets utrikespolitiska avdelningar och samlade diplomater från EU-länderna.
I arbetsuppgifterna ingår att
sköta traditionell diplomati
samordna andra utrikespolitiska verktyg: utvecklingsstöd, handel, humanitärt bistånd och krishantering
skapa samförstånd mellan de 27 EU-länderna och deras respektive prioriteringar på månadsmötena med EU:s utrikesministrar som hon leder
delta när EU-ländernas ledare träffas i Europeiska rådet
företräda EU i internationella forum som FN
leda Europeiska försvarsbyrån och EU:s institut för säkerhetsstudier.
EU:s handelskommissionär
Innan Catherine Ashton blev utrikesrepresentant var hon EU:s handelskommissionär.
Hon ledde då förhandlingar om frihandelsavtalet med Korea, som undertecknades i oktober 2009, och löste flera handelstvister med viktiga handelspartner. Hon slog också ett slag för handel som ett sätt att främja utveckling runtom i världen och utvecklade EU:s ekonomiska förbindelser med länderna i Afrika, Västindien och Stillahavsområdet.

Catherine Ashton företrädde också EU i WTO-förhandlingarna i Doharundan och utvecklade starka bilaterala handels- och investeringsförbindelser.
Politisk karriär i Storbritannien
År 1999 utsåg Labourpartiet henne till medlem i överhuset på livstid som tack för hennes insatser på lokal nivå.
I juni 2001 utsågs hon till statssekreterare i utbildningsministeriet. År 2002 blev hon ansvarig för regeringens initiativ "Sure Start".
I september 2004 utsågs hon till statssekreterare i ministeriet för konstitutionella frågor.
År 2005 röstades hon fram som "årets minister" av The House Magazine och som "årets medlem av överhuset" av Channel 4. År 2006 fick hon pris som "årets politiker" vid det årliga evenemanget Stonewall Awards, som lyfter fram insatser för homo- och bisexuella.
I juni 2007 fick Catherine Ashton plats i den brittiska labourregeringens kabinett som ledare för överhuset.
Utbildning
Catherine Ashton gick på Upholland Grammar School i Billinge Higher End, Lancashire, och sedan på Wigan Mining and Technical College. Hon studerade vidare på Bedford College i London och tog en kandidatexamen i sociologi 1977.
Privat
Catherine Ashton är född i Lancashire i England den 20 mars 1956. Hon är gift och har två barn och tre styvbarn.