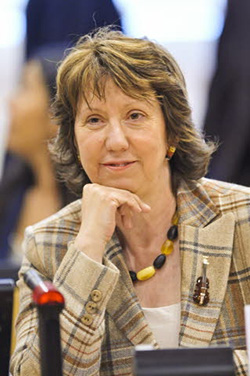 Alto rappresentante dell'Unione per gli affari esteri e la politica di sicurezza e vicepresidente della Commissione.
Nel novembre 2009 Catherine Ashton è stata nominata alto rappresentante dell'Unione per gli affari esteri e la politica di sicurezza e vicepresidente della Commissione.
È la prima persona a ricoprire questa carica, introdotta dal trattato di Lisbona per coordinare la politica estera e di sicurezza comune dell'UE. Questa figura riunisce in sé ruoli prima attribuiti a persone diverse, allo scopo di rendere più lineare e coerente la politica estera dell'Unione.
Nel suo lavoro, l'alto rappresentante/vicepresidente della Commissione è assistito dal Servizio europeo per l'azione esterna (SEEA), costituito il 1° gennaio 2011 mediante la fusione dei servizi della Commissione e del Consiglio competenti per la politica estera, ai quali si aggiungono diplomatici di carriera dei paesi membri.
Il portafoglio di Catherine Ashton comprende perciò diverse funzioni:
la tradizionale azione diplomatica
il coordinamento di altri strumenti di politica estera: aiuto allo sviluppo, commercio, aiuti umanitari e risposta alle crisi
la costruzione di un consenso tra i 27 paesi dell'UE e le rispettive priorità, spesso attraverso le riunioni mensili dei ministri degli Affari esteri, che sono da lei presiedute
la partecipazione alle regolari riunioni del Consiglio europeo, in cui siedono i leader dei paesi europei
la rappresentanza dell'UE nelle sedi internazionali, quali le Nazioni Unite
la guida dell'Agenzia europea per la difesa e dell'Istituto dell'UE per gli studi sulla sicurezza.
Commissario UE per il Commercio
Prima di assumere le sue attuali funzioni, Catherine Ashton è stata membro della Commissione responsabile per il Commercio.
In questa veste ha condotto negoziati fondamentali per l'accordo di libero scambio con la Corea, messo a punto nell'ottobre 2009, e ha risolto una serie di controversie di alto profilo con importanti partner commerciali. Si è inoltre adoperata per fare del commercio uno strumento di promozione dello sviluppo nel mondo, dando una base più solida alle relazioni economiche dell'UE con i paesi dell'Africa, dei Caraibi e del Pacifico (ACP).

Catherine Ashton ha infine rappresentato l'UE nel ciclo di Doha di negoziati commerciali mondiali, costruendo solide relazioni bilaterali in materia di commercio e di investimenti.
Carriera politica nel Regno Unito
Nel 1999 Catherine Ashton è stata nominata Pari a vita in riconoscimento della sua opera a favore delle comunità.
Nel giugno 2001 è stata designata come sottosegretario di Stato presso il ministero dell'Istruzione. Nel 2002 è diventata responsabile dell'iniziativa "Sure Start" dello stesso ministero.
Nel settembre 2004 è stata nominata sottosegretario di Stato presso il ministero degli Affari costituzionali.
Nel 2005 è stata votata "Ministro dell'anno" dalla rivista The House Magazine e "Pari del'anno" dall'emittente televisiva Channel 4. Nel 2006 ha vinto il premio "Politico dell'anno" nell'ambito degli Stonewall Awards.
Nel giugno 2007 Catherine Ashton è entrata a far parte del Gabinetto del governo britannico (laburista) in quanto Leader della Camera dei Lord.
Studi
Dopo aver frequentato la Upholland Grammar School di Billinge Higher End, Lancashire, e il Mining and Technical College di Wigan, Catherine Ashton ha studiato al Bedford College di Londra, dove ha conseguito un BSc nel 1977.
Vita privata
Catherine Ashton è nata nel Lancashire, in Inghilterra, il 20 marzo 1956; è sposata ed ha due figli e tre figliastri.