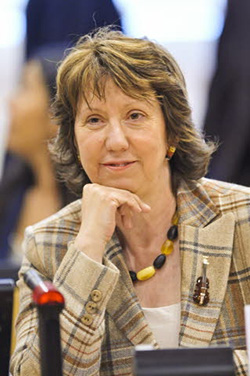 Unionin ulkoasioiden ja turvallisuuspolitiikan korkea edustaja ja Euroopan komission varapuheenjohtaja
Catherine Ashton nimitettiin EU:n ulkoasioiden ja turvallisuuspolitiikan korkeaksi edustajaksi ja komission varapuheenjohtajaksi marraskuussa 2009.
Kyseessä on uusi virka, joka perustettiin Lissabonin sopimuksella. Sen haltija vastaa EU:n yhteisen ulko- ja turvallisuuspolitiikan koordinoinnista. Vastuualueeseen on koottu tehtäviä, jotka aiemmin kuuluivat useamman henkilön toimenkuvaan. Näin on haluttu lisätä EU:n ulkopolitiikan yhtenäisyyttä ja johdonmukaisuutta.
Ulkoasiainedustaja-varapuheenjohtajaa avustaa Euroopan ulkosuhdehallinto (EUH), joka perustettiin 1.1.2011. Se muodostuu entisistä komission ja neuvoston ulkopoliittisista yksiköistä sekä EU-maiden lähettämästä ulkoasiainhallinnon henkilöstöstä.

Korkean edustajan, jota kutsutaan myös eli ulkoasiainedustajaksi, vastuulle kuuluvat muun muassa seuraavat:
perinteinen diplomatia
ulkopolitiikan välineiden (kehitysapu, kauppapolitiikka, humanitaarinen apu ja kriisinhallinta) koordinointi
konsensuksen rakentaminen EU:n 27 jäsenmaan kesken eri maiden prioriteetit huomioon ottaen – puheenjohtajan tehtävät kuukausittain pidettävissä EU:n ulkoministerikokouksissa
osallistuminen EU-maiden johtajien säännöllisiin Eurooppa-neuvoston kokouksiin
EU:n edustaminen kansainvälisissä yhteyksissä, esimerkiksi Yhdistyneissä kansakunnissa
Euroopan puolustusviraston ja EU:n turvallisuusalan tutkimuslaitoksen johtajan tehtävät.
EU:n kauppakomissaari
Ennen nykyistä tehtäväänsä Catherine Ashton toimi kauppapolitiikasta vastaavana Euroopan komission jäsenenä.
Ashton muun muassa johti Etelä-Korean kanssa käytyjä merkittäviä vapaakauppasopimusneuvotteluja, jotka saatiin päätökseen lokakuussa 2009. Hänen johdollaan myös ratkaistiin useita EU:n ja sen tärkeiden kauppakumppanien välisiä kauppakiistoja. Hän hyödynsi kauppaa kehityspolitiikan välineenä eri puolilla maailmaa ja vahvisti EU:n taloussuhteita Afrikan, Karibian ja Tyynenmeren alueen maihin.

Ashton myös edusti EU:ta Maailman kauppajärjestön Dohan neuvottelukierroksella ja rakensi vahvoja kahdenvälisiä kauppa- ja investointisuhteita.
Poliittinen ura Britanniassa
Vuonna 1999 Catherine Ashtonille myönnettiin työväenpuolueen edustajana elinikäinen päärinarvo yhteisöllisyyden edistämistyöstä.
Kesäkuussa 2001 hänet nimitettiin Britannian opetus- ja ammattikouluministeriön nuoremmaksi ministeriksi. Vuonna 2002 hän sai vastuulleen ministeriön toteuttaman "Sure Start" -hankkeen johtamisen.
Syyskuussa 2004 Ashton nimitettiin perustuslakiasioiden ministeriön nuoremmaksi ministeriksi.
Vuonna 2005 Catherine Ashton valittiin The House Magazine -lehden äänestyksessä "vuoden ministeriksi" ja Channel 4 -televisiokanavan katsojaäänestyksessä "vuoden pääriksi". Vuonna 2006 hänelle myönnettiin Stonewall Awards -tapahtumassa "Vuoden poliitikko" -palkinto.
Kesäkuussa 2007 Ashton nimitettiin parlamentin ylähuoneen johtajana Britannian työväenpuolueen hallituksen kabinettiin.
Koulutus
Catherine Ashton sai peruskoulutuksensa Upholland Grammar Schoolissa (Billinge Higher End, Lancashire) ja Wigan Mining and Technical Collegessa. Hän jatkoi opintojaan Bedford Collegessa Lontoossa. Hän suoritti Bachelor of Science -tutkinnon sosiologian alalla vuonna 1977.
Yksityiselämä
Catherine Ashton syntyi Lancashiressa Englannissa 20.3.1956. Hän on naimisissa, ja hänellä on kaksi lasta ja kolme lapsipuolta.