President Mwai Kibaki receives credentials from newly appointed Ambassador European Union to Kenya (28/02/2011)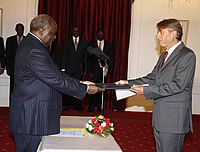 President Kibaki and Amb. Briet
The new EU Head of Delegation to Kenya, Lodewijk Briet, presented his credentials to President Mwai Kibaki on Wednesday, 23 February at a ceremony at the State House Nairobi. Mr Briet was among eight other envoys including the Portuguese and Spanish ambassadors.
Ambassador Briet expressed the European Union's commitment and support to Kenya's reform Agenda whose notable progress was the promulgation of a new Constitution in August last year.
He said that Kenya is an important partner of the EU adding that the strategic location of the country makes her a key player in the East African region and beyond. At the same time he commended Kenya for the invaluable contribution in the joint fight against piracy and looked forward to a closer working relationship to bring the much needed stability in Somalia and Southern Sudan.
Receiving the credentials, the President Kibaki said the EU was a key development partner of Kenya. The Head of State said Kenya is benefiting from Ksh. 15.4 billion Infrastructural developments funds emanating from the six financing agreements signed between Kenya and the EU in April last year.