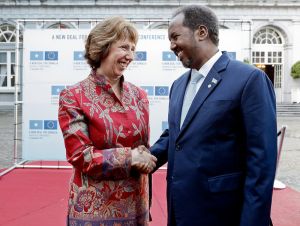 HR Catherine Ashton and President Hassan Sheikh Mohamud
Europe and Africa are two continents bound together by a common history, culture, geography, and not least by the very close exchanges which they entertain at a human, economic and political level. Cooperation between the EU and Africa has reflected early on the rich and diverse nature of the relations between both continents while also keeping up to speed with wider economic and political developments.
Two grand frameworks govern EU relations with African countries. The most long-standing one is the one established with African, Caribbean and Pacific (ACP) countries, enshrined in the 1975 Lomé Convention and updated in 2000 by the Cotonou Agreement. More recently, a continental approach gained ground with the adoption of the Joint Africa-EU Strategy (JAES) by 80 African and European Heads of States in 2007. The Africa-EU Partnership, enshrined in the JAES, embodies a new forward-looking vision for relations between Europe and Africa as one single continent, and sets out the overarching political framework defining relations between both sides. Going beyond development, it seeks to establish a partnership among equals, determined to tackle issues of common concern together.
The 4th EU-Africa Summit will take place in Brussels on 2-3 April 2014.
It will bring together African and EU leaders, as well as those of EU and African Union institutions. Under the headline theme 'Investing in People, Prosperity and Peace', leaders of both continents will discuss ways to seize further opportunities for cooperation and to expand their political, economic, investment and trade ties.
Ahead of the summit, several accompanying events are foreseen to involve a variety of European and African actors in the debate and reflection around EU-Africa relations. These events reflect the inclusive nature of the partnership and should produce recommendations which will be presented to the Heads of State and Government during the Summit.
Multimedia